Obituary for Treva Murriel Baker
Treva Murriel Baker, a descendant of Laclede and Wright County pioneer families, passed away on December 14, 2017, in Marshfield, Missouri. Her family lineage traces back to early settlers of Laclede, Wright, and Texas Counties in the 1840's. Having lived many years in Mountain Grove, she was born in rural Laclede County, near Competition, on December 25, 1917. The youngest of seven children born to James P. and Canzada (Claxton) Baker, she was a dependable and capable worker not only on the family farm, but in her 39-year career as a supervisor/consultant for Brown Shoe Company in Mountain Grove. She was born small, with weak lungs, and the doctor told her parents she would probably not live very long. She proved them wrong and lived to be 99 years, 11 months, and 19 days of age.

Although Treva never married, her lively personality, unrelenting work ethic, and unquenchable sense of humor endeared her to everyone, especially children. Her reason for not marrying was that "I either knew too much about somebody, or not enough." Following her 1937 graduation from Competition High School she attended Southwest Missouri State Teachers College. After finishing there, she taught at Coldwater, Victory, and Franklin schools. Through her high school years, she had to jog/run 6 miles each way every day to reach school in time after performing her morning farm chores and then get back home following school to perform her evening chores. In spite of this, she managed to be active in volleyball and choir activities at Competition High.

World War II interrupted Treva's teaching career, and she felt called to help in the war effort by taking a position in the Iowa Army Ammunition (fuse and booster) plant at Burlington, Iowa, in April, 1942. She contracted TNT poisoning while working with munitions at the plant, and returned to Mountain Grove for a long recovery and return to teaching. After Brown Shoe Company opened a plant in Mountain Grove, she accepted a position on November 15, 1945 in the cutting room. She purchased her first car that year, and was one of the few women in the area who could drive a car, and changed many tires while driving on the gravel roads predominant in the area.

Faith was an important part of Treva's life; she was baptized in November, 1932 in the Gasconade River in water so cold that ice had to be broken up. Whether it involved caring for her elderly parents, teaching her students, or giving sacrificially of her time and money to those in need, Treva believed in serving others before herself, and in honesty and fair dealing. She accepted the hardships that accompanied rural life at that time, adapting and working hard to overcome the many challenges.

Whenever there was a problem, people knew they could call upon Treva's intelligence and ingenuity to help solve it, and she was dispatched to numerous plants in several states to troubleshoot operational problems during her career at Brown Shoe Company. Her competence was noticed, and she was given tasks that traditionally had been delegated to the men in her workplace. One time when she was troubleshooting at another plant, the foreman told her that an executive at Brown Shoe headquarters in St. Louis had told him, "She's the best one Brown has got" and "Whatever Treva Baker wants, St. Louis will get for her." Wherever she went, problems got solved. As a youngster on the farm, she was entrusted with adult jobs, and as an adult woman, she was entrusted with positions normally given to men in that era.

After her retirement in 1984, Treva became a school crossing guard in Mountain Grove for seven years, during which time she made many friends among students and parents. She also traveled to several states, including Hawaii, and excelled at needlework of all kinds. Never one to be idle, she was an excellent cook and produced canned goods from the garden she kept for years.

Treva's memory for area history, dates, and minute details was truly astounding, and her memory did not seem to fade as she aged into her 90's. Talking with her was much like talking to a time-traveller, since the memories she had were so vivid and accurate. Her childhood and young adulthood homes had no electricity, running water, or telephone service, and WWI, the Great Depression, and WWII were events that shaped her world. She remembered listening, at age five, to President Calvin Coolidge address the nation live on radio in 1922, a historical event. She also recalled riding on a horse with her grandfather, Andrew Baker, a Civil War veteran. As his descendant, Treva joined the Daughters of Union Veterans Mary Whitney Phelps Tent No. 22 in Springfield, Missouri, claiming the distinction of being the tent's oldest member.

The impact that Treva Baker has had upon the lives that intersected with hers is inestimable. She at various times saved the lives of several people, including a baby, and encouraged countless students, coworkers, and family members to persevere and succeed in their endeavors. Her tireless and selfless service to others is perhaps the most notable of her impressive accomplishments. Treva Baker's was a life well-lived.

Treva was preceded in death by her parents, her brothers Emmett, Lee Roy, and Alfred Earl Baker, her sisters, Ruth Elizabeth Barnett, Ilah May Finley, and Nancy Jane Gourley, all of her sisters and brothers-in-law, 14 nieces and nephews, and special family friends, Ray and Ferriel Delcour.

She is survived by special "adopted" family, Larry and Carol Price, of the home, Denny and Sue Massey of Lebanon, Bob and Judy Weatherspoon of Columbia, Pete Weatherspoon of Lebanon, nieces, Margaret Porter and Glennis Dunbar, nephew, Wayne Baker, her namesake, Treva Finley, numerous great-nieces and great-nephews, and a host of extended family and many friends.
To send flowers or a remembrance gift to the family of Treva Murriel Baker, please visit our Tribute Store.
Previous Events
Visitation
Craig-Hurtt Funeral Home
315 N Main St
Mountain Grove, MO 65711
Funeral Service
Mt. Carney Church
11304 Winter Dr.
Lynchburg, MO 65543
Cemetery Details
Location
Mount Carney Cemetery
11304 Winter Dr.
Lynchburg, MO 65543
Memorial Contribution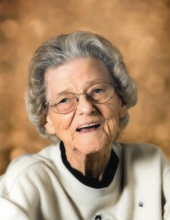 Thank you for sharing your
memory of Treva
Provide comfort by sending fresh
flowers from our local florist.
No thanks, please don't show me this again.